Consumers
Health Navigator
Patient resources to support the immediate implementation of video and phone consultations are being collated by Health Navigator and can be found at www.healthnavigator.org.nz/telehealth.
---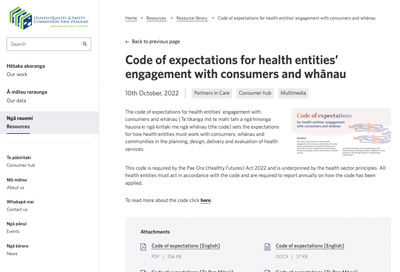 HQSC - Code of expectation engaging with consumers and whānau
The code of expectations for health entities' engagement with consumers and whānau (the code) sets the expectations for how health entities must work with consumers, whānau and communities in the planning, design, delivery and evaluation of health services. More information can be found here.
---
Telehealth renal case study
The Waikato DHB renal service covers the Waikato area but also from coast to coast all the way from Raglan on the west coast all the way to Gisborne on the east coast. A video conference solution is reducing the burden of travel for patients and providing more timely access to specialists.
---
A patient perspective
Fred from Paeroa tried telehealth and he loved it.
Fred went to his local Thames Hospital and linked by video to his specialist in Hamilton. Usually, the visit would take Fred over 4-hours, but by using telehealth it reduced this to just over 1-hour.