NZ Telehealth Resource Centre
Welcome to the NZ Telehealth Forum and Resource Centre. This site has guidance and resources for people who want to set up, improve or use a telehealth service within New Zealand. 
NZ Telehealth Forum
The NZ Telehealth Forum is a group which includes clinicians, consumers, policymakers, planning and funding managers, ICT experts and industry representatives. Our vision is that telehealth is embedded across the health sector as a sustainable way to deliver healthcare in New Zealand. Our mission is to provide leadership in the use of sustainable models of care enabled by telehealth that supports equitable, patient-centred care. More information is available here.
The NZ Telehealth Resource Centre
The NZ Telehealth Resource Centre brings together guidance and resources that support health providers to implement and grow their telehealth services. In addition to the growing range of resources on this website, we have a regular newsletter and webinar series. Please email us at help@telehealth.org.nz for any specific advice or support.
Recent updates:
What is Telehealth?
Telehealth is the use of information or communication technology to deliver health or medical care from a distance. Learn more here.
Find out More >
Getting Started
A lot of factors contribute to a successful telehealth implementation. The following resources which have been localised for NZ will help guide you.
Find out More >
NZ Telehealth Map
Find and explore examples of telehealth currently available in New Zealand. Search case studies by region, specialty, and type of telehealth.
Find out More >
Telehealth in Action
Waikato Renal Unit
The Waikato DHB renal service covers the Waikato area but also from coast to coast all the way from Raglan on the west coast all the way to Gisborne on the east coast. The service operates a hub and spoke model where the central hospital delivers the main care and we do outreach clinics in peripheral sites such as Gisborne, Whakatane, Tauranga, Rotorua, and Thames.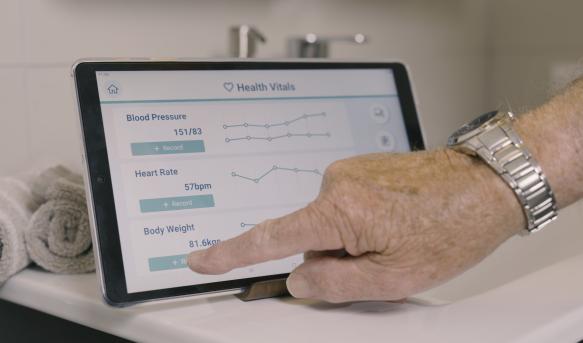 25 Mar
Latest News
Spritely - connected care
Armed with award-winning innovative video technology, seniors have reached a new level of quality of life in retirement villages thanks to Spritely, age-friendly technology designed with a simple concept in mind – to allow all seniors to manage their own health while living independently.