Spritely - connected care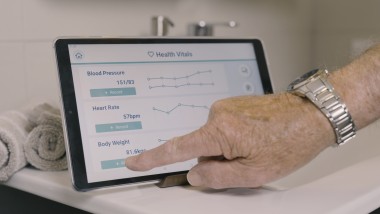 March 2021
Armed with award-winning innovative video technology, seniors have reached a new level of quality of life in retirement villages thanks to Spritely, age-friendly technology designed with a simple concept in mind – to allow all seniors to manage their own health while living independently.
Spritely enables residents to self-monitor and record their own daily health information, without physical contact, using a tablet and Bluetooth health monitors including blood pressure monitors, scales, thermometers and pulse oximeters. The equipment is accurate and easy to use and the results are remotely monitored by specialist nursing staff, who are alerted if symptoms recorded are a cause for concern. Among health monitoring and recording, Spritely includes a range of features including one-touch video calling between residents, displays the latest official government COVID-19 advice, allows residents to re-order prescription medications for non-contact delivery from their local pharmacy, keep residents up to date with the latest retirement complex news and book village social activities.
"Spritely stands out as the only age-friendly technology platform in New Zealand for retirement villages. We are the first in the country to develop a dedicated touchscreen for people in independent living units. Not only is this great for residents but retirement villages operate much more efficiently, saving them a considerable amount of money," Christopher Dawson, Spritely founder and chief executive officer says.
The concept for Spritely was born when Christopher's dad had a fall in 2015. The company was established the following year with the goal of helping seniors to be healthier, safer and more connected. One of the other major benefits of the application is that the technology is not only improving the quality of life for residents, but it is also having a positive effect on those close to them – bringing confidence and peace of mind to family members living afar.
"Our touchscreen tablet makes it easy for people to monitor routines, record health vitals, video call friends and connect to a telenurse, among other things. This was of particular importance to me as my parents live in Napier and I live in Auckland, so it makes it hard to check on them in-person."
Christopher worked with Qestral Corporation to develop the application, a company that builds and operates new generation retirement villages. The application was tested for more than a year with village residents and village staff, as well as head office staff at Qestral Corporation. The outcome of quality testing meant the company could make improvements to its application which increased overall value and benefit to users. In addition to the application using large, easy to read icons, buttons and indicator displays, other improvements included eliminating the launch application process – the tablet is always on, images were also added to the digital phonebook so that residents will easily recognise who they are contacting.
"Qestral is operated by some pioneers of the aged care industry in New Zealand. They have helped us to make the platform incredibly useful and relevant for operators as well as residents. They are now the first retirement village operator in the country to make age-friendly technology with access to telehealth, standard in every independent living unit."
Last year Spritely received government funding from the COVID-19 Innovation Acceleration Fund managed by Ministry of Business, Innovation and Employment (MBIE), and enabled them to develop a COVID-19 Automated Rapid Response Product for retirement villages. The tablet records symptoms and seniors are prompted to answer questions about their health and travel history, including close contacts. If residents are worried, it is simple to set up a telehealth video consultation with one of the on-site nurses. The tool is live with Qestral Corporation retirement villages in Christchurch. "The tool uses clinical workflows to detect and assess the risk of COVID-19 in residents and automatically triage them based on their level of risk," he begins.
"If any concerning data about a resident is received then they are automatically triaged into one of four risk categories (very low risk, low risk, medium risk or high risk). Based on their risk level the system automatically communicates the relevant Ministry of Health (MoH) advice to the resident via the tablet. Medium and high-risk residents are consulted via video conference on the tablet and the system monitors them for changes in symptoms which could indicate improvement or deterioration in their condition. All this is done remotely, without physical contact and largely automated, which enables villages to optimise their workforce."
There is huge opportunity for Spritely to be available for retirement villages across the country, and with the NZ Broadband Compare – Best Digital Innovation 2020 award firmly under their belt, Christopher (pictured right) is excited about the possibilities in 2021. The company is now focussed on developing their direct-to-consumer product so that in the near future anyone will be able to purchase Spritely. "We are also working with some big New Zealand brands to provide a platform for telemonitoring. Telemonitoring as a service is particularly useful for older people who suffer from chronic illnesses such as hypertension, Chronic Obstructive Pulmonary Disease (COPD) or diabetes. International research shows that telemonitoring helps people to manage their condition better, leading to improved health outcomes," he says. "We're also set to be very busy as more retirement villages see the benefits of adding our age-friendly technology platform to their villages."
Two Christchurch retirement villages operated by Qestral Corporation have almost 400 residents confidently using Spritely across both villages after the software was rolled out last year. The Spritely Connect system is available to all village residents and is included in every house and apartment at Qestral Corporation villages.
Remote patient monitoring (RPM) model of care has many benefits, both for patients and DHBs. With research revealing older people are happy to try telehealth, they are surprisingly adapting to the increased use of technology, and equally, are seeing the personal benefits.
A charitable initiative led by Waitemata District Health Board's Institute for Innovation and Improvement will provide patients with serious health conditions with remote monitoring technology, as part of the local COVID-19 response – reducing their need to visit hospital. Patients are taught how to use the equipment and enter their data into mobile devices, allowing it to be shared with and monitored remotely by their hospital care team.
Matt Williams, acting chief executive officer of The Trusts, which helped fund the equipment says the co-operative model could be used to support others around the country in a similar position.
"This project is an example of how organisations can co-ordinate rapidly to identify and support the most vulnerable in our community during an incredibly challenging time for all.
"It has been a privilege to be able to support local patients and help our health services respond urgently to this need," he says.
Waitemata District Health Board published Remote Home Monitoring for Chronic Conditions which talks about how remote home telehealth monitoring for patients with chronic conditions may mean early detection and treatment. Although there is little evidence to support this model of care will significantly reduce the burden on health services, telemonitoring is fast becoming adopted overseas and has potential for growth in New Zealand with its aging population.
Smart technology allows seniors to monitor their own health without compromising their health, safety or social connections, and will help to eliminate the fear of being unable to carry out daily routines safely, which is typically why many seniors have had to leave their much-loved home. Although some older adults may have never used technology before, there is a thirst for technology which provides real benefits and has a positive impact on their everyday lives.