Convenient, quality healthcare at the touch of a button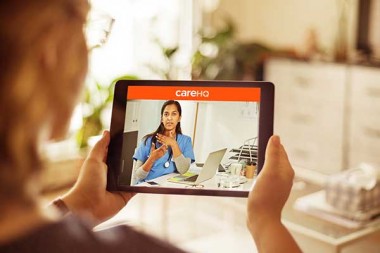 April 2021
In an unpredictable landscape it has never been so important to access quality health care that is accessible and convenient. Thanks to a partnership between ProCare and Southern Cross Health Insurance, an app has been designed to provide quick and easy access to GP services for patients who need urgent advice.
With telehealth becoming an additional service to district health boards and health providers, many online tools and apps are becoming available in the New Zealand market to ensure patients continue to receive high quality care, wherever they are located. The CareHQ app can be accessed by Kiwis for quality health care – providing patients with the ability to have access to prescriptions, referral letters, medical advice and health certificates.
The Southern Cross Healthy Futures Report 2020 revealed almost four in ten Kiwis take more than two days to access health treatment when feeling unwell and 10 percent do not seek any professional advice at all.
The research stated the reasons people gave for not accessing more timely healthcare included: no-one being available at the time they wanted (18 per cent), not having the time (11 per cent), the wait time being too long (11 per cent), not knowing who to go to (three per cent), having no way of getting to someone (two per cent) and having no health professional close to them (two per cent).
The concept by Southern Cross Health Insurance and ProCare is to provide trusted, quality and convenient virtual health care to those who need it but does not enrol patients. All GPs who provide consults through the CareHQ app are licensed medical practitioners, registered with the Medical Council of New Zealand (MCNZ) and the Royal New Zealand College of General Practitioners (RNZCGP).
Kiwis can book a consultation with a New Zealand-registered GP seven days a week, 7am – 7pm by booking directly through the CareHQ app; Southern Cross Health Insurance members can access CareHQ via the My Southern Cross app.
"CareHQ launched in November last year and we're still very much in the early days of operation. So far, we're really pleased with how Kiwis have embraced virtual health consultations with CareHQ when their regular GP isn't available. In fact, we're already seeing some repeat patients which is testament to CareHQ's convenience and accessibility," Pedro van der Ent, general manager, CareHQ says (pictured left).
"We saw a surge of people using CareHQ over the Christmas period, including many people who needed to speak to a GP while away on holiday. Reasons for using CareHQ have included bites, sprains, anxiety among young people, rashes, sexual health and repeat prescriptions.
"Some GPs took advantage of these accessible hours over the Christmas period and recommended CareHQ to patients while their own practices were closed."
While it is expected for some new applications to the market to require improvements, Pedro says CareHQ hasn't needed to be updated so far. "We carefully developed CareHQ to be fit-for-purpose, so it's been working well to meet the demand and hasn't required any updates. We've had positive feedback regarding user experience from both GPs and patients which we're pleased to see."
"Our aim is to preserve the relationship between practices and their enrolled patients, and the continuity of care that is so important for the health and wellbeing of New Zealanders. Virtual consultations are an essential option in modern general practice, and CareHQ extends that option for both practices and patients," Dr Jamie Shepherd, CareHQ clinical director says.
Southern Cross Health Insurance is New Zealand's largest health insurer with 880,000 members and 60 years of experience. ProCare has 25 years' experience supporting quality general practice, with more than 170 general practices across the greater Auckland region and more than 800,000 enrolled patients.