A HiNZ special report into telehealth at New Zealand DHBs and the impact of COVID-19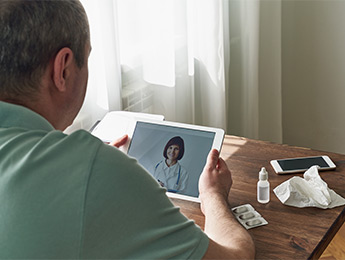 December 2020
In 2020 New Zealand, along with the rest of the world, was in a state of a health emergency due to Covid-19. When the national lockdown was in place, healthcare providers were forced to work differently, many utilised telehealth to reach patients remotely to provide continued care under social distancing rules. Suffice to say, the impact has changed the healthcare sector forever.
A recent report by HiNZ reveals an insight into the impact of Covid-19 on district health boards (DHBs) and their telehealth services and includes interesting statistics and case studies.
The report found some DHBs already had well established telehealth services before COVID-19 hit, meaning the background work was already complete and digital tools were in place. Early adoption, it seems, meant that when the time came to scale up telehealth amidst the pandemic, utilising telehealth became a natural step, not a burden.
In response to the crisis there was a sudden increase in telehealth (phone and video) appointments across the health sector, as working from home became the new norm for many clinicians and patients had to seek other means of accessing healthcare. The report reveals 17 DHBs completed approximately 3,300 telehealth consultations per week in a pre-Covid-19 month from November 2019 – January 2020, a figure which drastically increased in April to 34,500 per week.
What is particularly interesting is Waitemata DHB is maintaining a high level of telehealth appointments post-lockdown. The Waitemata DHB case study featured in this special report reveals it has already made strides in building infrastructure to support telehealth as part of its long-term goal to offer patients continued care and complements in-person consultations.
There are concerns about how the uptake of telehealth involves inevitable changes to workforce routines, processes and systems. The report addresses the need for a higher level of support behind the scenes for clinicians to ensure they have the skills, tools and confidence to deliver high quality telehealth appointments and build upon the momentum of enthusiasm for telehealth services. Equally, patients also need support and education to safeguard the use of telehealth and the benefits it offers. Particularly for vulnerable communities which are unable to reap the benefits of digital access to healthcare due to not having the technology, education or confidence to do so.
The report states there is still a huge amount of work needed to build a sustainable telehealth service, including careful consideration for digital enablers and digital inclusion. The Ministry of Health has provided a $10.5million cash injection towards 'digital enablement', including $7.1million for DHBs and $3.4million for GPs, in an effort to address the need for digital healthcare support.
With COVID-19 still on New Zealand's doorstep and the unpredictability of the future, the floodgates for telehealth have opened and there is no going back – education, technology and supporting tools for both clinicians and patients is important now more than ever.
The full report Telehealth at New Zealand DHBs and the impact of COVID-19 is available for HiNZ members only. Non-members can join by signing up.